Gregory D. Camfield D.M.D., P.C. F.A.G.D., F.I.C.O.I.

I love being a dentist. For the past 25 years, I have had the opportunity to meet so many wonderful people, and the friendships that I've built with my patients and their families are one in a million. It has always been my focus to make each patient feel at home when they come to me for treatment and I work hard to give my patients the one on one attention they deserve.
Education/Experience:
Dr. Camfield graduated from Southern Illinois University with a Bachelor of Arts in Biology and a minor in Chemistry. He obtained his Doctorate of Dental Medicine from Southern Illinois University's School of Dental Medicine in 1995.
Continuing Education
By regularly participating in continuing education, I am aware of the latest technology and dental treatments. My patients deserve the best, and continuing education allows me to provide my patients with more options and better results.
I have completed requirements for Fellowship in both the International Congress of Oral Implantologist's (ICOI) and the Academy of General Dentistry (AGD). The ICOI Fellowship is awarded for completing 125 hours of Continuing Education in conjunction with live patient surgical instruction in implant dentistry. The AGD Fellowship is awarded for completing 500 hours of Continuing Education and passing and extensive exam covering all aspects of dentistry. This advanced education designation is held by less than 7% of dentists nationwide.
In addition to my two fellowships, I have completed four separate post-graduate programs since graduating from dental school: The Misch International Implant Institute, The Dawson Center for Advanced Dental Study, and The Schuster Center for Professional Development.
In 2020, I graduated from one of dentistry's most prestigious teaching centers The Kois Center, in Seattle, Washington. The Kois Center is part of an educational network of Kois trained dentists who have made the commitment to a rigorous (222 hour) didactic and hands on training program. It is the only Continuing Education program in the country conducting and publishing independent research. It is a self funded learning center, which means, it does not accept sponsorship funding. This creates a learning environment without the sway of an agenda of dental product sponsors.
Family
When I'm not practicing dentistry, I'm blessed to be spending time with Julie my wife and my three kiddos: Geoffrey (20), Samantha (18), and Summer (9).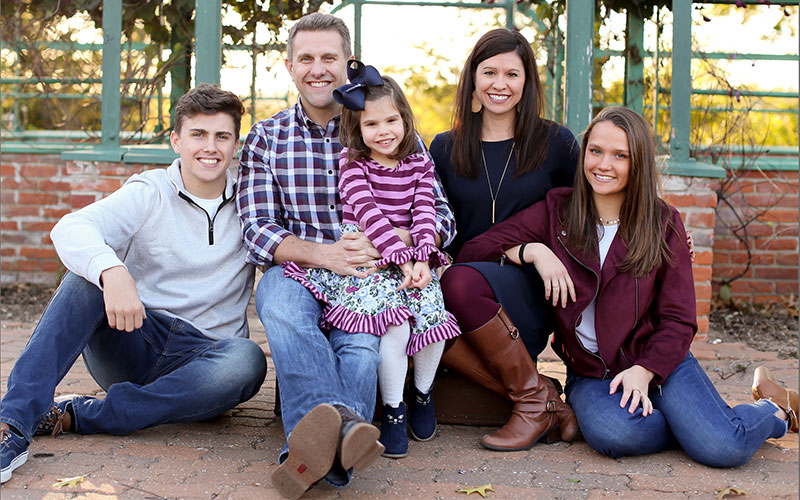 Julie is the Learning and Development Manager at MannaPro in Chesterfield. She has her Master's Degree in Professional Counseling. On the side, Julie is a Personal Development Coach for adolescents to help them develop crucial cognitive and executive function skills. If you know of an adolescent who might benefit from Julie's coaching, she can be reached through her website : wwww.juliecamfield.com
Geoffrey attends Maryville Univerisity on a baseball scholarship. He is currently working his way towards a degree in Accounting and eventually his MBA.
He is a 2019 graduate of Chaminade College Prep. He is also very excited to be pitching for the Wasau Wood chucks in the Northwoods Summer league in 2021.
Samantha is a 2021 Graduate of St. Joseph's Academy and is an All State Diver, winning her Conference meet and finishing 6th, 4th, 7th in the Missouri State Dive Championships. She has decided to attend the University of Arkansas in the Fall of 2021 and plans to study Pre-Law.
Summer attends third grade at Incarnate Word in Chesterfield and loves volleyball, soccer, gymnastics, art, Critters, Legos, and American Girl dolls.
Commitment to Community
I am truly blessed to live and work in such a wonderful community for the last 25 years. I enjoy getting to know my patients and their families, and it is such an honor to know that I have made a difference in so many of my patients' lives. I couldn't ask for a better job or for better people sharing their smiles with me. I look forward to working with you.